About the Property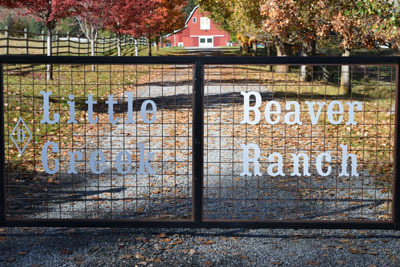 Little Beaver Creek Ranch is in the heart of western Montana, between the historic towns of Trout Creek and Thompson Falls. The ranch is a combination of an historic and working remnant of Montana's ranching past, and stunning natural beauty - - wide-open meadows with unobstructed views of the surrounding Rocky Mountains. Over 4000' of Little Beaver Creek provide the boundary to fenced & cross-fenced hay fields with a backdrop of the Bitterroot and Cabinet Mountains. The scenery is exceptional and area resources are astounding. Finding refuge on the ranch, wildlife is plentiful and diverse.

The nostalgic, red 7,200 square foot, 7-stall barn serves as a functional centerpiece to the property and as a solid scenic landmark. Historic structures abound, with two barns, a carriage house, one-room school house and bunkhouse to explore. A four-bedroom guest house offers short and long-term options for overnight accommodations, including electric vehicle charging stations. RV camping is also available through the Hip Camp program, creating a basecamp for a variety of recreational opportunities. The setting supports special events, weddings, horse boarding, cattle grazing and other activities, including winter cross-country skiing and snowshoeing - and, more.
Little Beaver Creek Ranch is surrounded by public lands with miles of backcountry hiking trails, and roads. Additionally, nearby Sex and Cougar Peak historic fire lookouts are available for overnight stays. These area resources also include easy access to the Clark Fork, Flathead, Big Blackfoot, Bull, Yaak and Kootenai Rivers, as well as Noxon Reservoir, Flathead and Pend Oreille Lakes for exceptional boating and fishing opportunities. Sweitzer and Lookout Pass ski resorts are a reasonable drive from the property and offer outstanding skiing and support facilities.

Ownership History: Joseph L. Hartman homesteaded the Little Beaver Creek Ranch by 6/18/1901 and granted by U.S. President, William McKinley and an additional homestead grant by U.S. President, Theodore Roosevelt in 1908 (both recorded 12/18/1911). Hartman was a prominent pioneer settler and resident, arriving in Belknap, Montana in 1886. Hartman was elected Sanders County Sheriff for five terms.

The property transferred to Charles and Ida Perkins in 1920; to Charles Muirhead in 1947; to Les and Laura Branson in 1955; to Henry and Margret Lieber in 1987; to Ben and Claudia Thomas in 2010 and to Rob and Mary Danno in 2021. Each of the owners significantly advanced and improved the property during thier stewardship.
"Climb the mountains and get their good tidings. Nature's peace will flow into you as sunshine flows into trees. The winds will blow their own freshness into you, and the storms their energy, while cares will drop off like autumn leaves."

- John Muir